En distribution chez Cinélibre (toute la Suisse):

Promised Paradise
Réalisation: Leonard Retel Helmrich
Camera: Leonard Retel Helmrich
Son: Ismail Fahmi Lubisch
Musique: Harry Roesli
Production: Scarabee Films, Hetty Naajkens
Indonésie / Pays bas 2006, 53 Min., Beta SP ou DVD, version originale avec sous-titres anglais.
Numéro Suisa: 1006.345


:


Nyon: Visions du Réel:
World-Dreams Capitole 2, 21 avril 2007, 9.30
dans le cadre de l'atelier Leonard Retel Helmrich



Installé à l'intérieur d'un poste de télévision en carton, le troubadour Agus rejoue devant des enfants l'attentat du 11 septembre 2001 à New York à l'aide d'un emballage de jouet figurant les tours du World Trade Center et un étrange avion-poisson. «C'est tout ce que vous voyez à la télévision qui est faux; ici, les personnes sont de chair et de sang», prévient-il en préambule, passant la tête à travers l'écran. Des illusions et des faux-semblants que Leonard Retel Helmrich a décidé de traquer, en compagnie de l'artiste, dans une Indonésie marquée par les attentats terroristes et le fondamentalisme islamique. Avec, au cœur de ce voyage politique et spirituel, une question lancinante: comment peut-on croire que tuer promet l'accès au paradis?
Véritable mise à l'épreuve des représentations, Promised Paradise fait s'entrechoquer la réalité et des performances théâtrales – scènes inspirées des violences qui bouleversent le pays, cours de théâtre où Agus fait jouer une scène du Coran à des enfants – pour faire émerger les ambiguïtés et les confusions qui se nichent au sein de la société indonésienne. Clamant son indignation face aux attentats ou s'adressant aux gens tel un muezzin dans les rues de Bali et de Jakarta, Agus provoque et déstabilise ses interlocuteurs: « Fuck terrorism » ne signifierait-il pas également, si on prend l'expression au pied de la lettre, « procréer » du terrorisme? demande-t-il à un Australien médusé. Parfois même, il prêche en proférant des opinions en faveur du djihad pour mieux les mettre à mal. Comme lorsque, sous prétexte de vouloir l'encourager, il rencontre dans sa cellule Imam Samudra, responsable de l'attentat de la discothèque de Bali en 2002, afin de le mettre au pied du mur. Il va jusqu'à consulter un medium pour entrer en contact avec l'un des compagnons du terroriste pour savoir s'il regrette ses actes: aucune réponse!
En accompagnant Agus dans sa quête d'une rédemption pour sa propre foi, le cinéaste porte un regard complice sur une Indonésie sans cesse sur la corde raide – à l'image d'Endang, pauvre homme égaré qu'Agus a pris sous sa protection, personnage troublant, à la limite de la folie, qui, dès qu'on l'abandonne, succombe à la violence ordinaire.
Source: Catalogue Visions du Réel 2006

The Jakarta-based Indonesian puppeteer and troubadour Agus Nur Amal travels to Bali to call to account the people who were responsible for the bomb attack on a nightclub there on 12 October 2002. Like in his theatre shows, humour is his main weapon. Before an audience of children, we see him enact the attack on the Word Trade Center inside a gigantic "TV set." The doll of Osama Bin Laden swaying his hips gets his audience roaring with laughter. But people stop laughing when his shadow play about the WTC disaster changes into images of new bomb attacks in Indonesia - first on the Australian Embassy in September 2004, and later in Bali in October 2005. Director Leonard Retel Helmrich, the 2004 winner of the Joris Ivens Award with Stand van de maan, uses ingenious editing to have Agus talk with the brain behind the attack in a "TV interview." Agus also consults a paranormal advisor and asks him where the perpetrators of the suicide attack are now. "Their heaven is our hell," is the conclusion. But while Agus is in Bali, his friend Endang, who is still in Jakarta, falls prey to intolerance and violence.
International Documentary Film Festival Amsterdam 2006

"Realität ist sorgfältig konstruierte Wahrnehmung, die darauf wartet, als Lüge entlarvt zu werden" - mit solch messerscharfer Ironie kommentierte Leonard Retel Helmrich, Holländer mit indonesischen Wurzeln, seinen "Promised Paradise".
Geri Krebs, WOZ - Die Wochenzeitung

Directors statement
After the bombing of a discothèque in Bali 2002 the world media was trying to find out what was really in the mind of those terrorists. My producer Hetty Naaijkens – Retel Helmrich asked me to make a film about it and the opinion of the ordinary people of the Islamic society in Indonesia. We both saw that the world media was never let the other side speak freely and open as it should be done in a democratic world.
In order to do so we thought of making use of Agus Nur Amal who happened to be a good fiend of me for almost a decade. Thanks to his charisma and human approach he helped me many times in the films I made earlier, like "The Eye of the Day" and "Shape of the Moon" to get things done behind the scenes.
As an artist who is making use of current affaires in his performances he is used to improvise on the spot. That made him the perfect person to find out the source of terrorism in Indonesia.
But maybe this was to open for the Indonesian government. Therefore, after the first screening, the Indonesian censorship declared that "Promised Paradise" was not allowed to be shown during the Jiffest Jakarta International Film Festival 2006.
Leonard Retel Helmrich

About Leonard Retel Helmrich
Leonard Retel Helmrich was born in 1959 in Tilburg, the Netherlands. In 1986 he finished his studies at the Dutch Film- and Television Academy and made his debut with the feature film "The Phoenix Mystery" in 1990. His documentary "Moving Objects" (1991) has won several prizes at International film festivals. He gave workshops to lecture his 'single-shot' theory all over the world on several Art Academies like Kansas and Jakarta. From 1994 he lives by turns in Amsterdam and Jakarta. Next to attending workshops as a tutor he has shot several documentaries before, during and after Suharto stepped down as a president. With his film "De stand van de zon / The eye of the day" in one blow he instantly became famous in The Netherlands.

Pour des réservations veuillez contacter le secrétariat de Cinélibre | cinelibre@gmx.ch.

---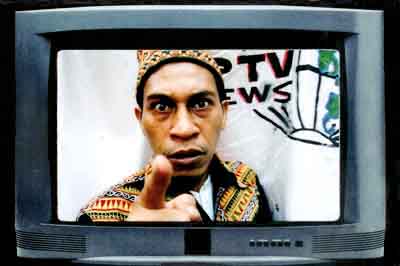 Download Foto 1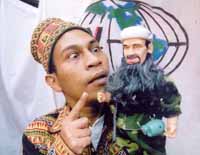 Download Foto 2
Download Poster