Im Verleih (ganze Schweiz und Liechtenstein) bei Cinélibre:

Promised Paradise
Regie: Leonard Retel Helmrich
Kamera: Leonard Retel Helmrich
Ton: Ismail Fahmi Lubisch
Musik: Harry Roesli
Produktion: Scarabee Films, Hetty Naajkens
Indonesien / Niederlande 2006, 53 Min., Beta SP oder DVD, Originalfassung mit englischen Untertiteln
Suisa-Nummer: 1006.345


| | | |
| --- | --- | --- |
| | | : |

Im Innern eines Fernsehers aus Karton untergebracht, spielt der Troubadour Agus vor Kindern das Attentat vom 11. September 2001 in New York nach. Eine Spielzeugverpackung stellt die Twin Towers dar, ein kurioses Fisch-Flugzeug die Terrorwaffe. Er streckt seinen Kopf durch den Bildschirm und gibt Vorwarnung: «Was ihr am Fernsehen seht, ist alles falsch, hier aber sind die Leute aus Fleisch und Blut». Illusionen und Vorspiegelungen, denen Leonard Retel Helmrich in Begleitung des Künstlers nachspüren will. Den Hintergrund seiner Nachforschung bildet das von Terror und islamistischem Fundamentalismus erschütterte Indonesien. Die Schlüsselfrage dieser politisch-spirituellen Reise lautet: wie kann man glauben, dass Töten die Pforten zum Paradies öffnet?
Der Film Promised Paradise stellt das Konzept der Darstellung auf den Prüfstand. Im Aufeinanderprallen von Realität und Theater (Szenen von der im Land umgehenden Gewalt, Theaterkurs, in dem Agus Kinder eine Koran-Szene nachspielen lässt) werden Widersprüchlichkeiten und Ungereimtes innerhalb der indonesischen Gesellschaft sichtbar. Seine Empörung über Attentate laut ausrufend oder die Leute in den Strassen von Bali und Jakarta wie ein Muezzin aufrufend, provoziert und verunsichert Agus seine Gesprächspartner. Den Ausdruck «Fuck terrorism» wörtlich zu nehmen, hiesse das nicht Terrorismus «zeugen»?, fragt er einen verdutzten Australier. Manchmal verkündet er sogar Pro-Jihad-Meinungen, aber nur um sie dann besser auseinander nehmen zu können. Wie bei seinem Gefängnisbesuch bei Imam Samudra, den er sich mit der Begründung erschleicht, er wolle den Urheber des Attentats von 2002 auf eine Disco in Bali in seinem Kampf unterstützen. Seine wahre Absicht aber ist es, diesen Extremisten in die Enge zu treiben. Er geht so weit, ein Medium zu beauftragen, Kontakt zu einem Kumpanen des Terroristen herzustellen, um herauszufinden, ob er seine Taten bereut: die Antwort bleibt aus.
Der Cineast begleitet Agus auf der Suche nach Vergebung für dessen Glauben und hat dabei ein engagiertes Auge auf Indonesien, ein Land auf prekärer Gratwanderung, versinnbildlicht von Endang, einem Mann mit verwirrtem Geist, den Agus unter seine Fittiche genommen hat. Sobald man ihm den Rücken kehrt, gibt er sich der Gewalt hin, an die man sich überall gewöhnt hat.
Quelle: Katalog Visions du Réel 2006

The Jakarta-based Indonesian puppeteer and troubadour Agus Nur Amal travels to Bali to call to account the people who were responsible for the bomb attack on a nightclub there on 12 October 2002. Like in his theatre shows, humour is his main weapon. Before an audience of children, we see him enact the attack on the Word Trade Center inside a gigantic "TV set." The doll of Osama Bin Laden swaying his hips gets his audience roaring with laughter. But people stop laughing when his shadow play about the WTC disaster changes into images of new bomb attacks in Indonesia - first on the Australian Embassy in September 2004, and later in Bali in October 2005. Director Leonard Retel Helmrich, the 2004 winner of the Joris Ivens Award with Stand van de maan, uses ingenious editing to have Agus talk with the brain behind the attack in a "TV interview." Agus also consults a paranormal advisor and asks him where the perpetrators of the suicide attack are now. "Their heaven is our hell," is the conclusion. But while Agus is in Bali, his friend Endang, who is still in Jakarta, falls prey to intolerance and violence.
International Documentary Film Festival Amsterdam 2006

"Realität ist sorgfältig konstruierte Wahrnehmung, die darauf wartet, als Lüge entlarvt zu werden" - mit solch messerscharfer Ironie kommentierte Leonard Retel Helmrich, Holländer mit indonesischen Wurzeln, seinen "Promised Paradise".
Geri Krebs, WOZ - Die Wochenzeitung

Directors statement
After the bombing of a discothèque in Bali 2002 the world media was trying to find out what was really in the mind of those terrorists. My producer Hetty Naaijkens – Retel Helmrich asked me to make a film about it and the opinion of the ordinary people of the Islamic society in Indonesia. We both saw that the world media was never let the other side speak freely and open as it should be done in a democratic world.
In order to do so we thought of making use of Agus Nur Amal who happened to be a good fiend of me for almost a decade. Thanks to his charisma and human approach he helped me many times in the films I made earlier, like "The Eye of the Day" and "Shape of the Moon" to get things done behind the scenes.
As an artist who is making use of current affaires in his performances he is used to improvise on the spot. That made him the perfect person to find out the source of terrorism in Indonesia.
But maybe this was to open for the Indonesian government. Therefore, after the first screening, the Indonesian censorship declared that "Promised Paradise" was not allowed to be shown during the Jiffest Jakarta International Film Festival 2006.
Leonard Retel Helmrich

About Leonard Retel Helmrich
Leonard Retel Helmrich was born in 1959 in Tilburg, the Netherlands. In 1986 he finished his studies at the Dutch Film- and Television Academy and made his debut with the feature film "The Phoenix Mystery" in 1990. His documentary "Moving Objects" (1991) has won several prizes at International film festivals. He gave workshops to lecture his 'single-shot' theory all over the world on several Art Academies like Kansas and Jakarta. From 1994 he lives by turns in Amsterdam and Jakarta. Next to attending workshops as a tutor he has shot several documentaries before, during and after Suharto stepped down as a president. With his film "De stand van de zon / The eye of the day" in one blow he instantly became famous in The Netherlands.

Für Terminreservationen bitte die Geschäftsstelle von Cinélibre | cinelibre@gmx.ch kontaktieren.


---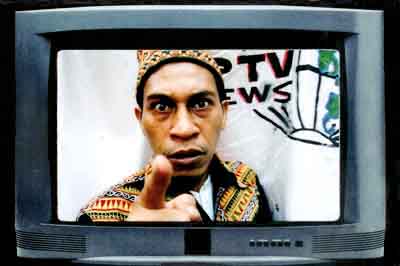 Download Foto 1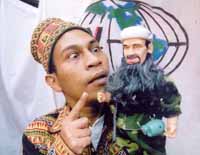 Download Foto 2
Download Poster